BMT PRO Dongle is a professional tool with 1 Year Activation provided by BMT Team.
To obtain software for this dongle, please, contact technical support team.
Features
Android Tools
Decode and read pattern lock (root is required)
Google account 4.x.x (root is required)
Install Language enabler (without root)
Install and activate Google keyboard stable (root is required)
Enable Qualcomm diag (root is required)
Virus cleaner (2 methods)
WiFi and Google Market fixer (root is required)
Wipe data (root is required).
TWRP Super Tools (New Security Decoder, Sideload Decoder and Rooter)
TWRP/CWM update new security for Android 7 added (decode and bypass screen+anti root Samsung with new Knox)
Added soft touch key for broken home and back key, hardware key
Added all languages for all Samsung phones (old and new)
HTC Tools
USB debug support for all HTC phones 2015-2016
HTC patch: enable all languages stable (without root). World`s first – support for HTC phones 2015-2016.
Bypass all lock screen user code (pattern-finger-pass) without decoding bootloader and losing data
Remove FRP (S-OFF)
Repair IMEI (S-OFF)
Easy HTC Flasher
Added new method for adding Farsi, Turkish and Arabic languages – world`s first.
Huawei Tools
Decode bootloader Hisi Balong (HiSilicon) for Honor 7 phone (active factory diag needed) without entering any token key
Enable language for Qualcomm phones in factory mode without disabling notification panel (root is required)
Enable languages for HiSilicon phones in factory mode (root is required)
Enable manufacture mode (root is required)
Read vendor / country code
Huawei QC rooter one-click
Repair IMEI for Qualcomm phones with 3 methods.

Method 1: Generic repair of IMEI for all Huawei QC (active diag needed)
Method 2: New security repair IMEI for all Huawei QC (active diag needed)
Method 3: IMEI repair on Hexagon Huawei phone (Y610, Y560 L02, L01) (active diag not needed), active factory diag phone 100% stable and stand alone without any authorization service.

DC-unlocker (only root needed) with supported models list: G730, G630, G6, G615, Y530 – world`s first
Huawei QLC unbrick and downgrade super flasher
Samsung Tools
BMT Core Cooker (added Farsi, Arabic, Turkish) to original ROM (root is required)
Decode and bypass screen lock with old method in MTP mode, read info, factory reset and reboot download (no need USB debug, enable diag)
BMT method to enable all languages (root is required)
Remove FRP
BMT super method with self CSC mode
Decode and bypass all user code patterns, pass code and finger print with BMT CSC mode and FRP, same Exynos decoding with CSC mode – world`s first
Enable all languages with CSC mode without root and brick device
CSC mode working with one click – world`s first
Decode network Exynos Samsung 2015-2016
Repair IMEI and fix network for all SPD Samsung phones:

SM-G130H, SM-G313H, SM-G130E, SM-G316H, SM-G350E, SM-G355H, SM-G360H, SM-G361H, SM-G313GZ, SM-G531H, GT-I9060I, SM-J100H

Added Samsung stock keyboard fa+ar stable free (gift for all users of BMT dongle)
Repair IMEI SM-A8000 + A800s without UART, only USB for Knox 00-01 is needed – world`s first
Beta test bypass using MSL code 2015-2016
Wipe / Repair security for Qualcomm phones
Repair serial number for all Qualcomm phones
Sony Tools
Enable language (root is required).
MTK Tools
Repair IMEI with 5 methods
Boot and ADB mode
Read and write full security and NVRAM with BMT method
Intel Tools
Enable factory diag (Asus, Acer, Lenovo)
Repair IMEI and security for all Intel-based smartphones
Decode sim and network for all Intel-based smartphones
LG Tools
Active diag (root needed)
Repair IMEI for all LG Qualcomm phones
Decode user and screen code (without ADB mode)
FRP reset
Allwinner Tools
Check and read right touch and g-sensor hardware
Factory backup img for writing with Phoenix Suite and Phoenix card (A10, A13, A20, A23, A31s, A33) – world`s first
Repair IMEI (A10, A13, A20)
Repair IMEI (A23, A31s, A33) – world`s first
First Registration:
Open BMT dongle official page.
Choose ACTIVATE SERIAL

Enter BMT Serial Number, choose Reseller GSM Server and add Your personal data.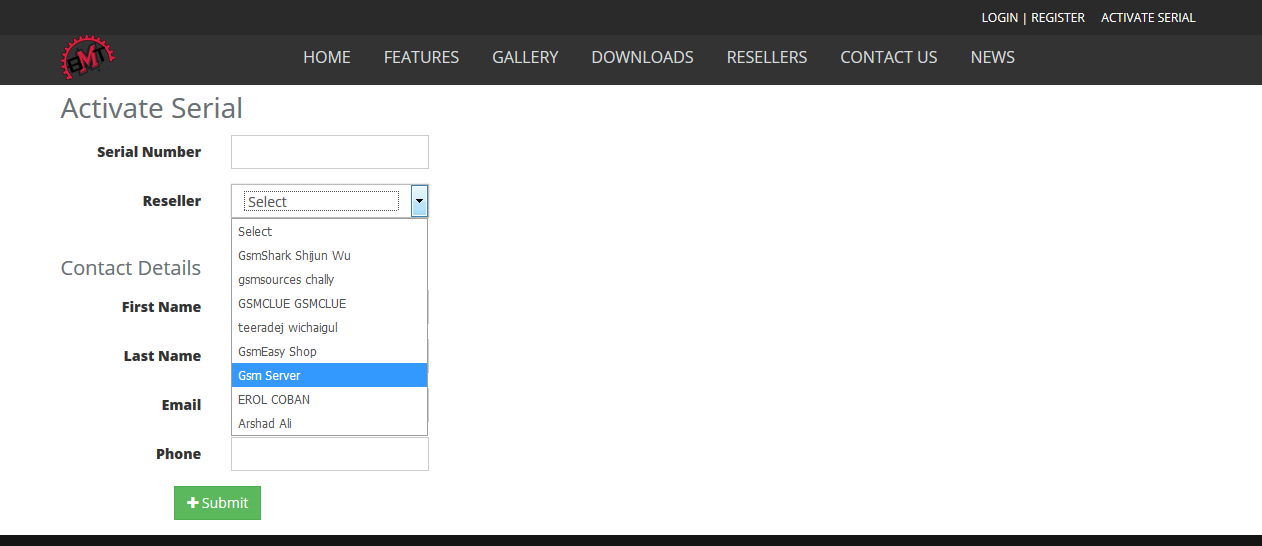 After the Registration you will be able to download main software via BMT Shell software. Corresponding link for BMT Shell downloading will be sent to your email after shipping.
Package Contents
BMT PRO Dongle – 1 pc.